DALSTON'S NEIGHBOURHOOD BREWERY
40FT is an independent brewery in Dalston, Hackney, producing fresh modern, beer.  

Starting in the kitchen of a Hackney Houseshare where three homebrewers made beer for their house parties, the venture quickly moved into two 20ft shipping containers located in a disused Dalston car park in 2015, after convincing the head brewer of their local brewery to join them.
Over the last 6 years, 40FT brewery has grown organically by adding more shipping containers like lego and a building a talented team of 15 people.
40FT is now brewing to capacity on a 10HL brew kit, with an output of 8,000 pints a week pouring in pubs and restaurants in East London as well as 40FT's award winning taproom.
40FT Brewery
The Bootyard,
Abbot St Carpark,
Dalston,
E8 3DP
OPENING HOURS:
Tuesday, 17:00 - 22:30
Wednesday, 17:00 - 22:30
Thursday, 17:00 - 22:30
Friday, 12:00 - 23:30
Saturday, 12:00 - 23:30
Sunday 12:00 - 20:00
40FT Taproom
Our taproom is the heart of the 40FT Brewery. We aim is to make this space Dalston's living room, an inclusive space where everyone is welcome. In 2021 we were honoured to be awarded UK's Best Independent Craft Beer Taproom by our trade body SIBA. 
We have ten taps pouring fresh beer brewed on site. You can always find our core range as well as special releases from our brewers, limited editions and collaboration brews. We also offer takeaway from our fridge with core range beers and limited editions in cans and sharing bottles. Pre-order is available here. 
We also have natural wines, a guest cider, RTD cocktails and whisky. We offer a limited food menu of flatbreads and small plates from our sister venue, Acme Fire Cult 
We have capacity for just over 100 guests at our taproom with a heated, covered decking and cosy indoor space.
- To book a large group such as a birthday party please click here. 
- To book a corporate event / Christmas party please find more info here. 
Stock our beer
We supply over 100 hospitality venues across London with fresh beer in both keg and cans. If you would like to stock us at your venue please get in touch.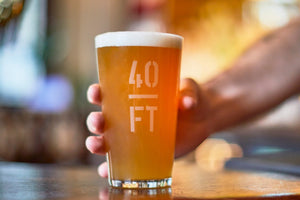 Community Beer
Dalston's Sunrise FUND
Dalston Sunrise is a purpose driven beer in our core range. Each month we donate 10% of the profits from our can sales to local charity organisations. The charities are selected by our staff.
Learn more
proud sponsors
Tower Hamlets women's football club
We are honoured to partner with THWFC as a kit sponsor.